Modern Shaman Performs Weddings, Ceremonies
sam
Spiritual Messenger and modern shaman Laine Cunningham brings a unique and powerful perspective to weddings, wakes and other milestones. As an ordained interfaith minister, she is qualified to lead any of the events from start to finish. Her participation can also be blended into larger programs in a way that respects the spiritual beliefs of all nations.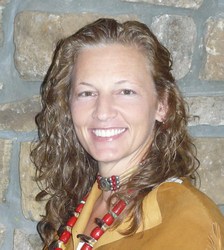 For the past ten years, Cunningham has used the thoughts, perspectives and views of ancient cultures to solve modern issues. Her work began when she realized that the storytelling she performed at spiritual and educational organizations had a unique impact. "Since the ancient ideas tackle relationships and human behavior head-on, they speak to modern audiences with unusual power," she says.
Cunningham began to work with the cultural and traditional ideas more directly. By distilling these concepts into easy, accessible language, she was able to help people with different issues. "Relationships are a big area…lovers, friends and family, neighbors and coworkers are all helped by these ancient concepts," she says.
She was ordained and achieved the Master level in Huna, a Hawaiian system of shamanic energy work. She was also certified in crystal and stone work while continuing her studies of different cultural beliefs. From there her work naturally progressed to assisting with the ceremonies and celebrations that mark life milestones.
Weddings are, of course, a popular area. Since she is an ordained minister, she can legally officiate. For those who want a more traditional exchange of vows, Cunningham can be brought in at any point during the wedding or the dinner.
Previously committed couples have the opportunity to reaffirm their vows with deeply moving ceremonies. Hawaiian conch blowing and lei exchange, Celtic handfasting, Native American blanket ritual, Hindu fire sacrifice, Australian Aboriginal gift exchange and other options can be combined as the couple sees fit.
This intermixing of components creates a new dynamic that respects the oldest ways that survive in our modern, interconnected world. This approach is unique because it integrates old and new energies. Cunningham believes it is an important way for today's spiritual seekers to connect with the divine universal flow.
"Individuals who are awake and aware can feel the energy moving through them and through their world," Cunningham says. "Respect is the only thing Spirit requires, and Spirit always knows what's in our hearts."
She interacts directly with individuals and their families to create tailored programs that serve specific needs. Often the individual's or couple's friends and family will be offered the opportunity to participate. Singing, drumming, dancing and chanting can be integrated into any event.
Wakes and funerals are another important area. In these cases, Cunningham can officiate over a Native American giveaway of the deceased belongings, Aboriginal ancestral listening, Celtic statue placement at the gravesite, and other honoring rituals. "Funerals and wakes help the soul transition while they support the loved ones who have been left behind," she says.
Since the one-year mark after a death is so critical to emotional healing, she also offers special rituals for that milestone. Birthday luaus, house and office blessings, celebrations for soldiers and veterans, clearings, and transitions into new life stages are just some of the areas where she can assist. To learn more about these services, visit the Ceremonies page of her website.
Cunningham has conducted weekend and half-day seminars on courage and spirituality for a multicultural women's foundation on White Earth reservation, churches and spiritual organizations, and arts organizations, all of which give her programs high marks. College, university, and public and private school students talk about her visits for years.
Her first novel, which focuses on modern Australian Aboriginal issues and spiritual beliefs, won two national awards. The book was also included in a celebrity swag bag early this year. This winter her first nonfiction book will be released. Seven Sisters (http://lainecunningham.com/message-stick.html) pairs Australian Aboriginal stories with essays that address modern problems.
Visitors to her website at www.lainecunningham.com can also sign up for her free email bulletin The Spiritual Messenger. Every week the bulletin provides thoughtful, inspirational messages. Subscriber comments have called The Spiritual Messenger wonderfully refreshing; hopeful, prophetic and to the point; and uplifting.
Cunningham has appeared in MSNBC's The Well-Mannered Traveler, the Sydney Morning Herald, USA Today, Awareness magazine, New Age Journal, and dozens of radio shows and TV programs. She has revealed the real secret behind the law of attraction, the spiritual lessons of chronic illness, the native take on the swine flu, the six months she spent alone in the Australian outback, and women's issues. She is available on short notice and can be reached at 336-267-6572.